Dr. Patricia Petitt, DO, MPH, is an Anti-Aging and Preventive Medicine Physician, and is also the Medical Director of Longevity Wellness Center & Spa. Dr. Petitt received her Medical Degree from South Eastern University of Health Sciences in North Miami Beach, Florida in 1994. She is Board Certified in Preventive & Occupational Medicine by the American Osteopathic Board of Preventive Medicine and Board Certified in Anti-Aging and Regenerative Medicine by the American Board of Anti-Aging Medicine (ABAARM) and is a Diplomat of ABAARM. Dr. Petitt has practiced Preventive Medicine for 18 years in Maryland and Virginia where she learned to focus on strategies to promote health and wellness as well as disease prevention.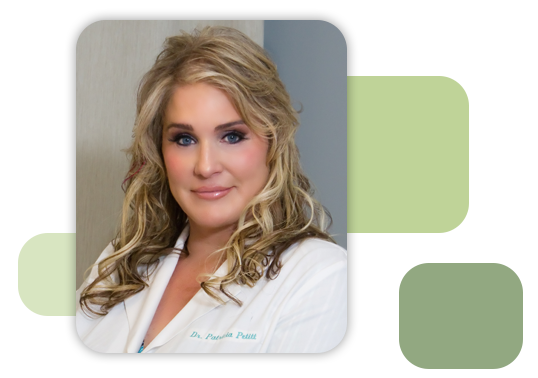 Dr. Petitt truly believes that it is important to look at the "whole person" to include how we look and feel on the outside as well as our health and wellbeing on the inside. To compliment her aesthetic training, Dr. Petitt completed a fellowship in Anti-Aging and Functional Medicine. This program emphasizes a thorough competency in nutrition, fitness, stress reduction, and bio-identical hormone replacement for men and women.
Mission Statement
The mission of Longevity Wellness Centers is to demystify the processes of aging and provide the tools and knowledge people need to live the life they have imagined.
Longevity Wellness Center's Values
Whole-Person Care
We will attend not only to the physical but also to the intellectual, emotional, and spiritual dimensions of each individual
Affiliations
ASAMI – American Society of Aesthetic Medicine & Intradermal Mesotherapy
ACAM – American College for the Advancement in Medicine Link
ASLMS – American Society for Laser Medicine and Surgery, Inc. Link
AMMG – Age Management Medicine Group Link
Fellow of American Academy of Anti-Aging Medicine Link
Member of Institute of Functional Medicine Link
Health Freedom Foundation Link
Menopause Symptoms Blog Link