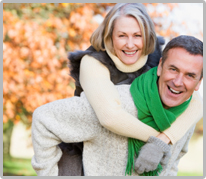 The gradual wasting away of the body over the course of decades is not a necessary or normal component of aging. Rather, it is the natural outcome of a lifetime of unenlightened choices. Through unhealthy choices you may actually function and be aging biologically at the same level as someone 15-20 years older. The question is how can you be one of those people who function and age biologically at a level equivalent to someone who is many years younger than you?
The answer can be found at Longevity Wellness Centers with a Preventive-Aging Consultation. Longevity Wellness Centers offers a number of consultative levels:
Youthful Hormone Replenishment:
We age, in part, because our hormones decline. Hormones regulate cellular functions and genetic expression. You were the healthiest when hormones were at optimal levels in your youthful prime. It is only when hormones decline and synthetic hormones are introduced to the body that we see problems. Replenishing a youthful balance with natural bioidentical hormones can restore youthful vitality and delay many aging-related health problems.
This service level provides a comprehensive assessment of your hormone blood levels and related medical history, with individualized recommendations for optimum hormone replenishment. One-on-one physician consultation and instruction covers all aspects of safe hormone replenishment, specific for you.
Hormone Replenishment and Nutritional Lifestyle:
Obesity is the fastest growing health problem in the U.S. Managing a healthy weight becomes increasingly difficult as we age, and most diets fail because they are not individualized to your needs. This consultation adds a comprehensive nutritional lifestyle evaluation to the hormone replenishment service described above.
A detailed assessment and computer analysis of your current nutritional lifestyle, and a body fat analysis provide the basis for a customized dietary program to achieve your goals. One-on-one physician consultation and instruction covers all aspects of safe hormone replenishment and optimal nutrition, specific for you.
Comprehensive Preventive-Aging Program:
Patients typically describe the Longevity Wellness Centers Comprehensive Preventive-Aging Program as a life-changing experience. It is a total body, mind, and spirit approach to wellness. A custom life-plan is created to personally guide your journey to functionally age at a level equivalent to someone many years younger than your chronological age, and replenish your youthful vitality.
Longevity Wellness Centers offers renewable 6-month & annual clinical management agreements. Arrangements are available for patients living out of state who desire ongoing clinical management of their preventive-aging program, but are unable to return to Longevity Wellness Centers for regular preventive follow-up visits after an initial consultation. (See Costs) Typical benefits for patients choosing Longevity's ongoing clinical management include:
Comprehensive Preventive-Aging Program:
Reasonable physician access via e-mail and phone
Appointments are usually 1 -1.5 hours for new patients and 30 minutes for follow-ups
Ongoing assessment and review of progress
Longevity Wellness Centers specializes exclusively in preventive-aging clinical services and is not a provider for primary care medical services. We do not treat acute, chronic or emergent medical conditions. It is essential that you have a primary care physician. We are happy to work in cooperation with your physicians upon request. Longevity Wellness Centers does not participate in Medicare or insurance plans.
Ready to Get Started?
Click here to go to our patient area
Affiliations
ASAMI – American Society of Aesthetic Medicine & Intradermal Mesotherapy
ACAM – American College for the Advancement in Medicine Link
ASLMS – American Society for Laser Medicine and Surgery, Inc. Link
AMMG – Age Management Medicine Group Link
Fellow of American Academy of Anti-Aging Medicine Link
Member of Institute of Functional Medicine Link
Health Freedom Foundation Link
Menopause Symptoms Blog Link